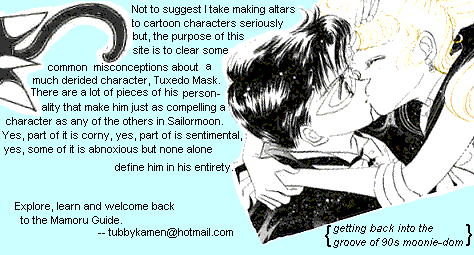 Sailormoon Worst of Web Best of Month Selection September 1998
See the old/defunct page at: http://mamoru_guide.tripod.com

Email: edwonghaupepelutiv14@msn.com
Contents:
Illustrated Guide to Tux:
<*>Silver Millenium
<*>Rebirth
<*>Who is he?
<*>Season by Season
<*>Details
as in History tidbits, Attacks, Deaths, Other Powers, Stats

Villians who love him:
Galaxia
Nepherenia

Obsessive fan says:
<&>Masquerade
<&>Graceland

Credits

These are stranded from the old webpage. Press back to return.
[Old]Downloads
[Old]Beautiful Dreamer
[Old]Love is
[Old]Orpheus






&nbsp *
&nbsp &nbsp *
&nbsp &nbsp &nbsp *
&nbsp &nbsp &nbsp &nbsp *


What's this? Your constellation points to vegan meals.






























&nbsp&nbsp&nbsp*&nbsp&nbsp*
&nbsp&nbsp*&nbsp&nbsp*
&nbsp*&nbsp&nbsp*
*&nbsp&nbsp*
&nbsp*

changing things. made great, totally aewsome on caliber with some of my old layouts. deleted it. if i have time i may redo a similar layout. this webpage is dead but it seems pathetic to leave it stranged all ragged like this. i'll give it one last face lift. content and everything.